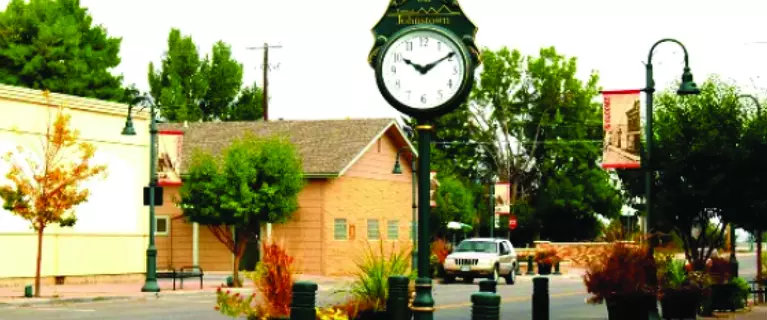 2023 Small Communities Workshop
The Department of Local affairs 2023 Small Communities Workshop, takes place at the Larimer County Emergency Operations Center (4872 Endeavor Drive, Johnstown) on October 10-11. This workshop looks at important issues facing Colorado's small communities and showcases how some are approaching them. The agenda is below, and you can register here.
Tuesday, October 10
5-7 p.m. Networking Reception
Lazy Dog Bar & Grill, 4801 Thompson Parkway, Johnstown
Wednesday, October 11
9-9:20 a.m. Welcome and Opening Remarks
Speakers: Rick Garcia, Executive Director, Colorado Department of Local Affairs; Eric Bergman, Colorado Counties, Inc.; Kevin Bommer, Colorado Municipal League; Ann Terry, Special District Association of Colorado
9:20–9:30 a.m. Local Welcome
Speaker: Troy D. Mellon, Mayor, Town of Johnstown
9:30-10:45 a.m. Building Sustainable and Resilient Public Facilities
Working with state and local partners to advance sustainable public facilities. Learn about LEED Gold Certified municipal buildings, tools and financial opportunities, and advancing resilience in the built environment. 
Speakers: Chief Russ Kane, Galeton Fire Protection District; Jennifer Woods, Town of Hudson; Eric Lowe, Colorado Energy Office; Marguerite Harden, Colorado Resiliency Office 
10:45–11 a.m. Break
11 a.m.–12:15 p.m. Inclusive Affordable Housing
How Colorado communities are tackling the housing crisis, and how community leaders can approach affordable housing development in a more successful, inclusive, and holistic way. Hear a demography update and about tools and financial opportunities, as well as case studies from small towns. Opting into Proposition 123 and equity, diversity, inclusion, and accessibility in housing will also be addressed.
Speakers: Nancy Gedeon, State Demography Office; Jason Damwebber, Town of Estes Park; Christian Morgan, Town of Kersey; Andrew Achtley, Division of Housing; Andy Hill, Community Development Office; Jacquelyn Stanton, Department of Local Affairs
12:15–1 p.m. Networking Lunch (provided)
1–2:15 p.m. Water Planning and Water Conservation
Regional ideas for addressing water conservation and efficiency in our communities, including tools and financial opportunities, integrating water conservation into land use planning, water planning at the county level, and advancing water conservation at the municipal level.
Speakers: Kevin Reidy, Colorado Water Conservation Board; Scott Williamson, Community Development Office; Jim Hall, Northern Water; Laurie Kadrich, Larimer County; Trish Stiles, Town of Bennett
2:15–2:30 p.m. Break
2:30-3:45 p.m. Building Back after Disaster
Hear from those that have faced the challenge of building back after natural disaster.
Lori Hodges, Larimer County Office of Emergency Management; Victoria Simonson, Town of Lyons; Jeff Durbin, City of Louisville; Anne Miller, Colorado Resiliency Office
3:45-4:15 p.m. Closing Remarks