#FFFFFF
The past few years have been challenging ones for downtowns across the nation due to the global pandemic; however, local Main Street programs responded with increased support and technical assistance, as reflected in Colorado Main Streets' publication, The Main Thing.
Colorado Main Street, as DOLA's premier rural development community program continued to support our communities to coalesce funding, data and information, and technical assistance to support vibrant downtowns statewide. The reinvestment statistics, reported quarterly, demonstrate the impact of community efforts in tandem with the customizable, accessible, and holistic services from the program.
Net New Jobs and Business
Per the following chart, net new jobs in 2022 are nearly back to 2019 levels, and 141 net new businesses opened on our Main Streets last year, compared to the 104 of 2021 and 2019.
In 2019, the number of net new part-time employees was 162, but this dropped to 35 in 2020. They rose to 127 in 2021, and rose again in 2022 to 192.
Likewise, the number of net new full-time employees were at a strong 250 in 2019, down in 2020 to 122, and up again to 237 in 2021. Net new full-time jobs remained strong, with a gain of 206 in 2022.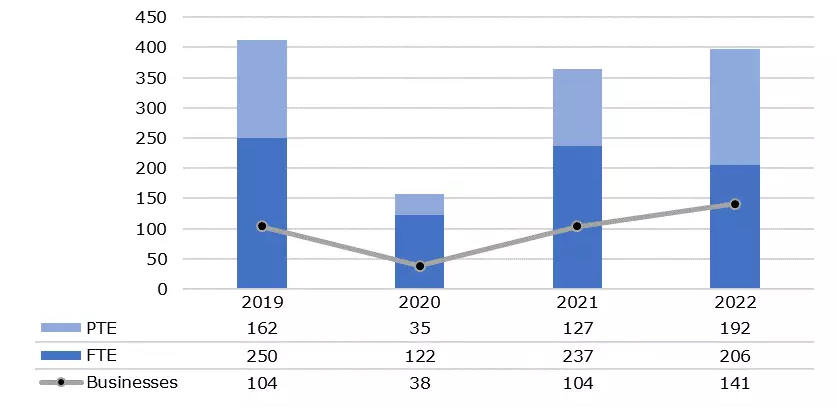 Public and Private Investments, Improvements
Public and private investment on Main Street skyrocketed in 2022, with the year seeing more private investment than the three previous years combined, and nearly the same increase for public investment.
The 2019 levels for private investment were just under $92 million. They dropped to $16 million in 2020 and then went up to $33 million in 2021 and up to $141 million in 2022.
Public investment in 2019 was just under $20 million in 2019, just over $20 million in 2020 and 2021. It then jumped to almost $58 million in 2022.
The building and façade improvements were at 213 in 2019, 129 in 2020, 220 in 2021, and 200 in 2022. .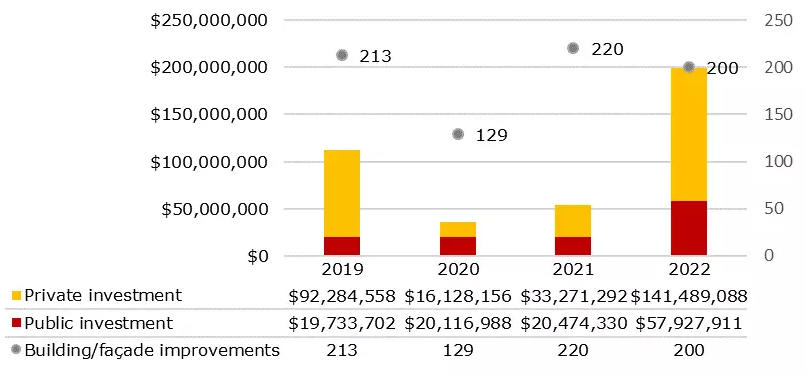 Events, Attendees, Volunteer Hours
The number of events, their attendance, and the number of volunteer hours are still lagging pre-pandemic numbers, but are showing a healthy comeback.
Pre-pandemic attendee numbers in 2019 were just over 331,000, but they dropped to roughly 91,000 in 2020, and regained momentum at over 281,000 in 2021 and over 219,000 in 2022.
The volunteer hours were similar as they were just over 20,000 in 2019, 6,805 in 2020, 15,155 in 2021, and over 17,000 in 2022.
The events were also affected by the pandemic. There were 321 events in 2019, 126 in 2020, 215 in 2021, and 209 in 2022.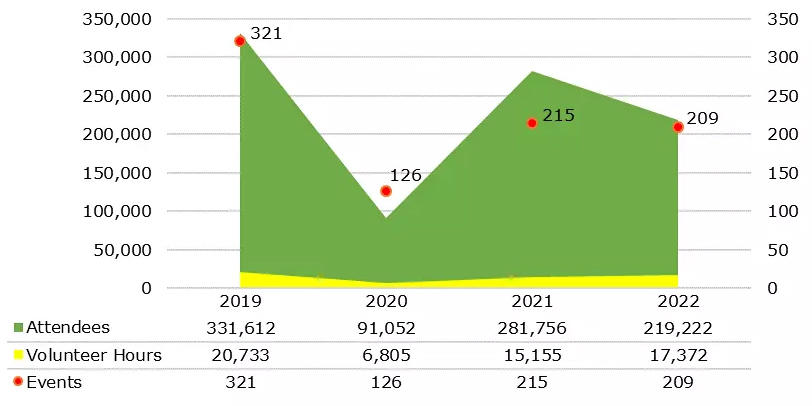 See the historical and nation-wide data as reported to the National Main Street Center.
#FFFFFF
#FFFFFF
Join Main Street
Colorado Main Street provides cities and towns with technical assistance and funding to support vibrant downtowns and enhance local character. Please
contact Colorado Main Street
to explore the program with you and your community.